You are invited to attend this free dynamic event on bible prophecy!

Starting Thursday March 2nd, 2023.
Time: 6:30 P.M.-7:45 p.m.
Address: 354 N. Spring St. Sparta TN 38583
 
THis Event will be running for the Month of March. It will begin on Thursday the 2nd of March and run till April 1st. After the first night (thursday), Metting will be held every Friday, Saturday, Sunday,  Tuesday, and Wednesday. Monday and thursday will be off nights (after the first Thrusday).

Meetings will begin at 6:30 P.M. from 6:30-6:45 will be health information provided by Alyssa Bahnmiller (BSN, HWC). After the health and wellness portion is over, then the Prophecy series will begin. Prophecy series will be held by Eric Bahnmiller (Evangelist, AFCOE ). 

Participants may sign up for free bible school coarses, for which diplomas will be awarded after completion. We will be giving away special edition bibles to Participants who make 80% of the meeting. It will be a kJV  study bible with concordance, with special prophecy cover.

Children are welcome. children (and infants) are welcome to stay with their mothers in the actual meeting or  There will coloring and activities for children who are able to be apart from parents in a side room. 

Pre-register below to Get a head start on this event. 
Nightly Topics Include:
The Greatest Prophecy in the Bible - Thursday Mar. 2nd
The Millennial Man - Friday Mar. 3rd
The Ultimate Sacrifice - Saturday Mar. 4th
The Coming King - Sunday Mar. 5th
The Magnificent Kingdom - Tuesday Mar. 7th
The Prince of Pride - Wednesday Mar. 8th
The Devils Dungeon - Friday Mar. 10th
The Final Firestorm - Saturday Mar. 11th
The Unchangeable Law - Sunday Mar. 12th
The Rest of our Work - Tuesday Mar. 14th
A Heavenly Model - Wednesday Mar. 15th
Cleansing the Temple - Friday Mar. 17th
Bowing to the Beast - Saturday Mar. 18th
Marked for Death - Sunday Mar. 19th
Bewitching Spirits - Tuesday Mar. 21st
The Woman of Truth - Wednesday Mar. 22nd
The River of Life - Friday Mar. 24th
The Daughters Deadly Dance - Saturday Mar. 25th
The Voice in the Wilderness - Sunday Mar. 26th
The Windows of Heaven - Tuesday Mar 28th
Babylon's Buffet - Wednesday Mar. 29th
Jar of Oil - Friday  Mar. 30th
Proving Prophets (Eric's Testimony) - Saturday Apr. 1st
The Goal of the Godly. - Saturday Apr. 1st.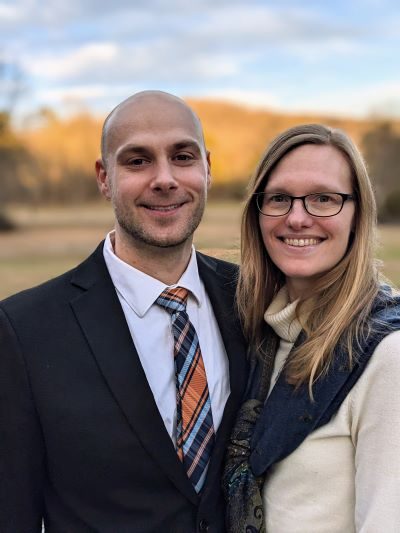 Eric's Bio
Growing up in a Christian home, Eric developed a knowledge of God, but never a personal relationship with Him. Although he continued to go through the motions, he would slip more and more into the world and get caught up with the cares of life.  It wasn't until discovering exciting truths in bible prophecy that his life changed. Eric says, "It's amazing to me what God has done in my life and continues to do! It's the same thing God can do in anyone's life for those who will let Him." Christ stated, "him that cometh to me I will in no wise cast out." (John 6:37). Eric now feels privileged and honored to be working with his wife and four children sharing the same exciting bible truths that changed his life.
Alyssa's BIO
Alyssa Bahnmiller is a Registered Nurse who spent the first six years of her career in the Emergency Department. During her time in emergency care she began to feel a call into lifestyle medicine and preventive care. She has since complemented her Nursing background by completing schooling to be a Nationally Board-Certified Health and Wellness Coach. She currently spends her time working in the home raising and educating her and Erics 4 children, ministering alongside Eric in the community and working in her church and community to educate toward good health and wholistic wellness. Her passion is for people to know that Gods desire is for them to have an abundant and rich life experience to His glory and that this can be realized physically, mentally and spiritually, when Gods simple methods for healing and wellness are followed.
Registration Form